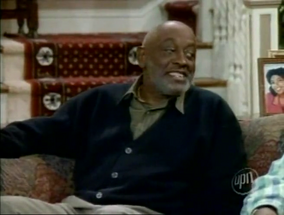 Fletcher Thomas is the current husband of Estelle and step-father of Carl. He was portrayed by Arnold Johnson (until season 5's It Didn't Happen One Night), Whitman Mayo (Season 6's They Shoot Urkels, Don't They?) and Edmund Cambridge (Season 7's Best Years of Our Lives).
Personality
[
]
He is shown to be patient and understanding of others but can assert himself when situations call for it. Fletcher is presumed to be accepting of Urkel due to his friendship with Estelle.
Background
[
]
Fletcher was introduced as new flame for Estelle in Requiem for an Urkel. He was quickly disliked and mistrusted by Carl until Higher Anxiety, which explains his fears of having to see his mother endure the same pain that if he opens his heart to Fletcher and decided to be open to their relationship.
In Mama's Wedding, he and Fletcher quarreled over the wedding arrangements. He and Estelle prefers to have a small wedding with their family and friends but Carl wanted to give them a big bash. Carl would attempt to give Fletcher and Estelle the small ceremony like they asked but Eddie's plans to have a house party next weekend after the wedding nearly derails that(thanks to Waldo's lack of proof-reading skills in inaccurately advertising the party on the same night as the wedding that leads to Carl punishing Eddie). In spite of the foul up, Fletcher and Estelle have a wedding they'll remember for a long time.
In It Didn't Happen One Night, Carl becomes annoyed when they visit the house and continuously expresses their love for each other, which is something Harriette finds annoying since Carl never expressed how he feels for her except in the home.
In They Shoot Urkels, Don't They?, to save their retirement home from closing down, Fletcher and Estelle hosts a dance off, which everyone including Carl and Steve participates. However, their rivalry in trying to prove who is better irritates Harriette and Myra that they abandon them. Fletcher and Estelle leave the two men to dance it out.
Fletcher and Estelle decide to be more active by trying more activities, which Carl finds too extreme until they tell him why. It is unknown what happens to Fletcher after that, but it is presumed he passed away.
Episode appearance
[
]
Season 2
[
]
Season 3
[
]
Season 4
[
]
Season 5
[
]
Season 6
[
]
Season 7
[
]