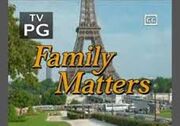 Paris Vacation (Part 1) is the first episode of the eighth season in this television sitcom on Family Matters, which was aired from ABC on September 20, 1996. It was directed by Richard Correll and written by Fred Fox Jr.
Plot
[
]
Steve has created an invention that he calls the "UrkPad." Steve, the Winslows and Stefan use the UrkPad to teleport themselves to Paris, France for a vacation. During this vacation, Stefan gets a chance to become a male supermodel, Eddie annoys a café owner and ends up being told that he has to work at the cafe for two weeks and Steve has a new friend, a lovely French girl named Nicole. Steve is unaware that Nicole and her cousin Andre plan to steal the UrkPad's blueprints, because they believe that it can make them a fortune.
Synopsis
[
]
Part 1 of The Paris Vacation kicks off when Myra comes to the Winslow home to see a special invention Steve made called a teleportation pad which will take you to a random place. Carl comes into the kitchen while Steve is on the phone and accidentally steps on the teleportation pad transporting him to Paris, France. An unknown lady welcomes him to Paris. The rest of the Winslows come into the kitchen and realize that Carl is gone. Harriette asks Steve what is going on. Steve tells them that Carl got transported on the Urk-Pad(which is the teleportation pad) to Paris. Everyone is confused and mad at Steve for letting this happen until Carl comes back on the Urk-Pad dressed in Paris type clothes saying bonjour. Harriette worried about Carl hugs him and he tells her what went on leaving the full family except Myra to travel to Paris. They arrive in Paris in a hotel and meet the lady that introduced Carl to Paris. All the rest of the family arrives including Laura and Steve's alter-ego, Stefan. Steve meets the young lady who had they met in the hotel named Nicole when he gets there and she wants to know about him and his technology. They go into the gardens where Nicole then sits down and talks to a her cousin, Andre, who she is working for. He asks her about her knowing what the teleportation pad is. She said that she knows what to do. Andre then puts shades on and lets whatever Nicole is going to do be a good feeling to him. Can Steve power through this or is he too nerdy to realize he is being pulled into a trap for a famous invention?
Cast
[
]
Main
[
]
Guest
[
]
Mathieu Delarive as Andre
Christopher Birt as Gilbert
Gilles Detroit as Phillip
Fily Keita as Nicole
Trivia
[
]
Again a stunt double is used for Steve and Stefan and special effect on Camera for Jaleel to be seen as both Stefan and Steve at the same time in a few scenes.
This episode and the second and third parts were actually filmed in Paris.
Quotes
[
]