The first season of the sitcom Family Matters which originally aired on ABC. The pilot episode premiered on September 22, 1989, and the first season of Family Matters concluded on April 27, 1990, with the episode Rock Video. The season consisted of 22 episodes.[1] It was released on DVD on June 8, 2010.
Premise
[
]
In the first season, shortly after Rachel's husband Robert dies, Carl, Rachel's brother-in-law, Harriette, Rachel's sister and Estelle, Carl's mother, move in to help them with her son Richie and the Winslow kids, Edward (more commonly referred to as Eddie), Laura, and Judy. Episode 12 is notable for marking the very first appearance of Steve Urkel, the most famous and popular character in Family Matters.
Opening-credits sequence
[
]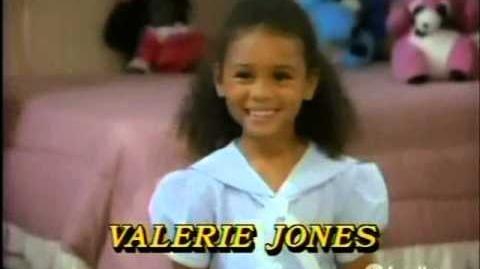 The opening theme begins with a close-up of buildings and water in the city of Chicago, Illinois, followed by the logo of the series, appearing on a wide shot of the Winslow's house. We then see the kitchen table in the house, with the entire family there. We are introduced to the cast, first with the adults (VelJohnson, Payton, and LeNoire) featuring Carl heading downstairs holding a set of newspapers, Harriette playing a piano, and Estelle laughing as she reads a Rolling Stone magazine. The kids (McCrary, Williams, Jones (Pilot only), Foxworth) are shown next, with Eddie putting items into a bag in the supermarket, Laura listening to music in her room and taking her headphones out, and finally, Judy playing with a toy house (Pilot: Judy sitting in her room in front of her bed). Richie (Wright) is on Rachel's lap. Rachel (Hopkins) holds flowers while smelling the scent of her garden.
Next, we see Carl, Harriette, Eddie, Laura, and Rachel riding their bikes across a bridge in the city, followed by various shots of episodes from Season 1. It fades to the Winslows, in the living room where Rachel can be seen tickling Richie and the camera fades and zooms-out to their entire neighborhood at sunset.
Reception
[
]
Initial reception for the show was very mixed, with many feeling that the shows plot lines were generic. Ratings for Family Matters were so low to the point where the series was on the verge of getting cancelled. However, following the introduction of Steve Urkel, many critics changed their viewpoint, as they felt that the show was finally finding its footing. This viewpoint was mirrored by the audience, as the ratings largely began to increase midway through the season.
Cast
[
]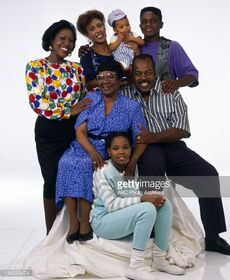 Main
[
]
Recurring
[
]
Syndicated repeated-closing
[
]
Due to Season 1 being the only season to be produced by Lorimar Television, Reginald VelJohnson credits Lorimar Television during the ending credits in the original airings of Family Matters.
Episodes
[
]
The first season consists of 22 episodes in total:
No. in
series
No. in
season
Images
Title
Original air date
Director
Writer(s)
1
1
The Mama Who Came to Dinner
September 22, 1989
Joel Zwick
William Bickley and Michael Warren
When Harriette invites Mother Winslow to come live with them Mother Winslow starts bossing everybody around and the whole family doesn't get along. Meanwhile Eddie wants to go to a party but Carl won't let him go, so Mother Winslow tries to convince Carl to let him go to the party and eventually does in exchange to easing up on the other family members.

Note: Valerie Jones plays Judy Winslow.

2
2
Two-Income Family
September 29, 1989
James O'Keefe
Robert Blair
When Harriette gets fired from her job as elevator operator at the Chicago Chronicle from taking Carl's advice for asking for a raise, the Winslows go through depressing times so Carl keeps encouraging Harriette that she'll find a job that's good for her. Meanwhile, Eddie is interested in buying some new high tops but Carl says he has to earn his own money to buy them.

Note: Jamie Foxxworth makes her first appearance as Judy Winslow.

3
3
Short Story
October 6, 1989
Joel Zwick
William Bickley and Michael Warren
Rachel's idea for a new short story almost involves the family in it. At first everybody thinks she was making fun of them but then they all forgive her except for Harriette only because she thought that she was being helpful to her than instead being pushy and mean, so they both keep arguing at each other because of the short story. Laura and Judy helps Harriette and Rachel reconcile. Meanwhile, Carl is upset about the water bill so he tries to save money by forcing the family to cut back on the water usage. Also, Eddie tries to ask a girl out after being inspired by Rachel's story. Unfortunately in ignoring Laura's warning not to, he ends up on the wrong end when a jealous boyfriend comes after him and forcing Carl to talk to Eddie again.
4
4
Rachel's First Date
October 13, 1989
John Bowab
Sally Lapiduss and Pamela Eells
Rachel is nervous and guilty about going on her first date again ever since her husband has died. Mother Winslow has a heart-to-heart talk with her and encourages Rachel to date again.
5
5
Straight A's
October 20, 1989
John Bowab
Geoff Gordon and Gordon Lewis
When everybody thinks that Eddie was going to get bad grades on his report card, it turns out that Eddie had straight A's. Eddie finds out that his prank master friend, Rodney, found out a way to switch everyone's real report card with a fake one. So Eddie is nervous to tell Carl his real report card, the one with B's and C's on it. When he does, Eddie thinks Carl is disappointed in him again and leaves. Carl realizing that Eddie is hurt and has a heart-to-heart talk with him by admitting he is proud of Eddie. Meanwhile, Laura is upset about getting only one B on her report card.
6
6
Basketball Blues
November 3, 1989
James O'Keefe
Barry Gold
When Carl finds out that basketball tryouts are about to begin at school, he trains Eddie too hard to the point when Eddie wants to quit. Trying to get Eddie to change his mind, Carl invites Will "The Thrill" Morgan over to their house to get Eddie to play basketball again. When it does the opposite, he is depressed and plays basketball in the gym. There, Carl finds out that Harriette invited Will over to teach him a lesson and let Eddie pursue his own dreams. Meanwhile, Rachel wants to start cooking more often, but finds the family very reluctant to try her quiche.
7
7
Body Damage
November 10, 1989
James O'Keefe
Ken Kuta
Carl plans to ride a vintage 1940s police car in a parade, but spreads the news to the whole family that no one is to even touch the car, let alone get inside it. Then, Rachel convinces Harriette for them to take a spin, but they come back with a huge crack on the car. Harriette and Rachel go behind Carl's back and try to fix it bringing Eddie, Laura, and Judy into it.
8
8
Mr. Badwrench
November 17, 1989
John Bowab
Alan Eisenstock and Larry Mintz
Carl wants to build a new shower for Mother Winslow while she is gone so he forces Eddie to help him install it. Harriette knows that Carl cannot fix anything and tells him to call a qualified professional to build the shower properly. Carl refuses and ends up paying for his mistake when things do not go very well. Meanwhile, Rachel claims she heard Little Richie say his first word; "Mama". So she tries to prove it to everybody by recording it.
9
9
Stake-Out
November 24, 1989
James O'Keefe
Sally Lapiduss and Pamela Eells
Harriette is jealous of Carl's new beat partner, an attractive female cop. She grows especially worried when she finds out that the two will spend an undercover stake-out at a love motel and she thinks that Carl might be cheating on her. Harriette pays the price for her jealousy when two criminals that Carl was trying to nab, takes her and Rachel hostage. Estelle saves the day by taking down the bad guys using her Judo moves, leading Harriette to apologize for her behavior.
10
10
False Arrest
December 1, 1989
Peter Baldwin
Barry Gold
An egotistical actor that the family (everyone except Carl who has valid reasons) loves named Buddy Goodrich (Ron Glass) wants to sue Carl for false arrest. Eventually, the rest of the Winslows despise Goodrich when they find out he did break the law by provoking Carl and order him out of their lives for good. Goodrich is found guilty and must spend his weekend cleaning up garbage from the side of the interstate.
11
11
The Quilt
December 8, 1989
Peter Baldwin
David Scott Richardson
Laura accidentally sells Estelle's heirloom quilt to an art dealer, then makes an impassioned, tearful all-out plea to get it back. When she does get it back, Estelle tells the family about the quilt's history and decides to name Harriette to continue the Winslow's legacy as the quilt could only be inherited by the women in her family. While going through things being sold at the garage sale, Rachel finds her old saxophone and tries to learn to play it despite the family's complaints. She soon realizes that she is simply not cut out to be a professional saxophone player.
12
12
Laura's First Date
December 15, 1989
Richard Correll
William Bickley and Michael Warren
Laura is dateless for the upcoming school dance, so well-meaning Carl and Eddie (without consulting each other) set Laura up with three different dates. Carl's pick for Laura's date is a decision that would change their lives and one he would forever live to regret: Steven Q. Urkel. Laura finally picks up the courage to ask Mark to the dance, but must deal with Carl and Eddie for their actions. Steve Urkel was introduced in this episode.

Note: Jaleel White makes his first appearance as Steve Urkel.

13
13
Man's Best Friend
January 5, 1990
Richard Correll
Robert Blair
Carl will not let the kids keep the stray pooch that follows them home from school, but soon becomes attached to it. Carl then realizes he must give it away after realizing its nature.
14
14
Baker's Dozen
January 12, 1990
James O'Keefe
Ken Kuta
Rachel persuades Carl to sell his secret recipe for lemon tarts to a local restaurant. However, Harriette warns against it, believing it is a bad idea and the family will regret it. The family then gets a huge order for the treats (12,000 tarts) and less than 48 hours to fulfill the contract, not helped by Urkel's unwelcome visit. This results in a huge food fight and Harriette's advice proved to be best heeded. In the end, the family only makes $24 in profits.
15
15
The Big Reunion
January 19, 1990
Richard Correll
Alan Eisenstock and Larry Mintz
A nervous Carl attempts to lose weight for his high school reunion, but realizes that it is easier said than done. However, when he comes to the reunion, he is relieved to find that his friends have gained some weight as well. Meanwhile to keep Carl true on Rachel's diet plans, Harriette gets Eddie, Laura and Judy involved to keep him away from.
16
16
The Party
February 2, 1990
Richard Correll
Ken Kuta
Carl tells Eddie about the "No Friends Allowed" rule that he, Laura and Judy must follow while the adults are out. However, after dinner is ruined, Rodney comes over and brings pizza. Eventually, he invites some friends (per the deal with some local students), which piles up into a huge party. Eddie and Laura try to stop the kids from making damages to the house and Judy takes advantage by taking pictures as evidence. Meanwhile, Carl cannot figure out directions to his brother Darrell's 40th birthday party and gets a citation by a sheriff. He, Harriette, Rachel and Estelle head home just in time to bust Eddie having a party. They prove more effective in chasing out the other teenagers. Carl and Harriette later severely discipline him and Laura after Judy snitches on them.
17
17
The Big Fix
February 9, 1990
Richard Correll
Sally Lapiduss and Pamela Eells
Urkel agrees to tutor Eddie, who is failing his algebra class, under the condition that he set him up on a date with Laura. He holds Eddie's Prince concert tickets as collateral to ensure his wish will come true. His date with Laura is a perfect disaster. Meanwhile, Carl makes a horrible attempt to fix a wobbly chair and Harriette insists he buys another chair.
18
18
Sitting Pretty
February 23, 1990
Richard Correll
Ken Kuta
Laura wants to make some extra money and starts a babysitting business. However, when her friends bail out for a Paula Abdul concert, it is up to Laura, Judy, Eddie and Steve to keep things under control while Carl invites Captain Davenport to dinner. Things soon get out of hand and not only give Captain Davenport a night to remember, but also causes Carl to ground Laura. Rachel ponders whether to tell her new boyfriend she is a mother.
19
19
In a Jam
March 16, 1990
Richard Correll
Alan Eisenstock and Larry Mintz
Urkel is being harassed by a huge thug named Bull, who intimidates the diminutive nerd into handing over his lunch money. When Urkel asks Eddie for assistance, he thinks he is merely seeking attention until Rodney sees the bully threaten Urkel with serious injury when he declines to give him any more money. After talking it over with Carl, Eddie realizes he needs to stick up for Urkel and fight off Bull. Meanwhile, after Carl busts up a bank robbery, he gets an opportunity at a part-time job as a traffic reporter. Rachel convinces him to incorporate some jokes into his first report. Harriette disapproves of it and insists that Carl should be himself doing so. She proves to be right as Carl eventually realizes that Rachel's jokes are flat and that he needs to be himself while giving the reports. He does, and ends up getting the job.
20
20
The Candidate
March 23, 1990
James O'Keefe
Barry Gold
Eddie runs for class president. He and campaign manager, Laura, make the bid one of style over substance. Her hopes to keep Eddie out of the spotlight gets derailed when Rodney signs him up for a debate in front of their class and angers Laura. Meanwhile, Rachel becomes a recycling addict after writing an article and Harriette talks some sense into her. Eventually during the debate, Eddie drops out when he realizes that Margie is more qualified for the job than he is. Later on, he confronts Laura for using Rodney and employing dirty tactics to hurt Margie.
21
21
Bowl Me Over
April 20, 1990
Richard Correll
Robert Blair
After Laura beats Eddie in a video game, Carl decides to take the family out for their annual Friday bowling night. When Steve comes, it gets competitive, and also when Harriette admits she let Carl win it turns into a bowling brawl: Carl, Eddie and surprisingly good Steve versus Laura, Rachel and Harriette. After the family comes home, they continue arguing until Estelle comes out of her room and stops this. She calls the family out for their behavior and reminds them it was God that brought them back to their senses with the blackout, believing they were getting out of hand with their rivalry.
22
22
Rock Video
April 27, 1990
Richard Correll
Geoff Gordon and Gordon Lewis
Eddie's ego runs amok when he tries to enter a rock video for a contest. His narcissism eventually disgusts his band mates as the video only focuses on him and leaving them out, thanks to Urkel's loose lips. They desert him and cause his family to call him out for it. Wanting to salvage his hopes for winning the contest, Eddie eventually calls on Urkel and his family to make a friendly rap video, "We Are a Family" with Estelle as the emcee. Meanwhile, Carl tries to settle the family's taxes to no avail. Refusing to take Harriette's advice to let his brother help him with his taxes, Carl soon regrets it.