The seventh season of the family sitcom as Family Matters which was aired on ABC from September 22, 1995 to May 17, 1996, with the consists of 24 episodes. It was released on DVD (Region 1) on July 26, 2016.
Non-Opening Credits
[
]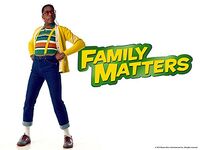 This is the first season to have the cast names at the bottom of the television screen during the opening scene, and the instrumental ending theme song only plays during the ending credits.
Reception
[
]
Fans and critics are often divided on the season. The most frequent criticism was directed at the overuse of the Urkel character and the shortened screen time for the rest of the cast due to it. However, many praised the performances and the development of the new character 3J, whom would be further developed in the following season.
The season is notable for being the first season where Jaleel White noticeably struggles to perform Steve Urkel's signature high-pitched voice, as his real voice began to deepen as he got older.
Cast
[
]
Main
[
]
Recurring
[
]
Episodes
[
]
Season seven consists of 25 episodes.
No. in
series
No. in
season
Title
Original air date
Directed by
Written by
146
1
Little Big Guy
September 22, 1995
Richard Correll
Fred Rubin
Urkel's transformation chamber is going berserk. The nerd and flustered foil Carl are shrunk to two inches tall, and as a result must work together to dodge hazards such as rolling fruit and large house cats.
147
2
The Naked and the Nerdy
September 29, 1995
Richard Correll
Stephen Langford
Urkel and Laura accidentally see each other naked in the bathroom, and are embarrassed to speak to each other afterward. Eddie wisely helps them out by telling Urkel and Laura of his own experience in catching Carl and Harriette naked as a child. Meanwhile, Carl does a favor for his neighbor, Larry Johnson (Spencer Garrett), in the form of keeping his wife's gift (a diamond bracelet) hidden at his home. However, when Harriette mistakes it as her anniversary gift, Carl must set things straight.
148
3
Bugged
October 13, 1995
Richard Correll
Fred Fox Jr.
Urkel fights temptation as he fantasizes about a relationship with a beautiful bug collector (Amy Hunter) he met in an online chat room. He worries that his desire to kiss the girl will interfere with his relationship with Myra and seeks Laura's advice. Meanwhile, Harriette asks Carl to allow her boss, Nick Neidermeyer, to participate in his weekly poker game. However, he acts very rude when he keeps winning, testing Carl's patience particularly since her standing at work may be on the line. Soon Harriette loses her patience and tells Nick off that she won't tolerate his disrespectful behavior. She dares him to fire her, only for him to reveal a shocking surprise.
149
4
Teacher's Pet
October 20, 1995
Richard Correll
Stephen Langford
Urkel is asked to supervise an English class for his absent teacher, but the students in the class are unruly and have no intention of learning. They eventually embarrass the nerd and push him to the point where he wants to quit. However, Urkel has an ace up his sleeve – Stefan Urquelle, who immediately takes control of the class and helps one student with a date for the homecoming dance. Meanwhile, Carl and Harriette bicker over each other's share of the household chores. Hiring extra help particularly, attractive members of the opposite sex only exacerbates matters. In the end, Carl and Harriette agree to divide the housework more fairly.
150
5
Walking My Baby Back Home
October 27, 1995
Richard Correll
Gary M. Goodrich
When Eddie brings new girlfriend Greta (Tammy Townsend) home after curfew, her father refuses to allow her to see him for a month. Eddie wants to see Greta again, so he arranges for Urkel to act as his go-between, but that only lands the nerd in trouble, due to an unexpected flat tire. However when Mr. McClure finds out again and rather than let Steve take the fall, Eddie accepts responsibility for himself and is fired. Urkel calls out him for his brash actions and tells McClure off if he is the kind of person who fires people for being responsible for their actions, he refuses to work for him at Mighty Weenie again. Mr. McClure agrees to allow Eddie and Greta to date again, after one month. Meanwhile, Estelle is audited by the Internal Revenue Service, and Carl finds himself in trouble with the tax man as well when he tries to help her straighten the matter out.
151
6
She's Back
November 3, 1995
Joel Zwick
Jim Geoghan
Urkel goes to Russia to visit his parents unannounced, giving the Winslows a few days of not to be bothered by him, However, Myrtle shows up, hungrier than ever for Eddie's affections. Only this time, Myrtle has to get through Greta first. Meanwhile, Carl and Harriette must deal with a broken garbage disposal.
152
7
Hot Rods to Heck
November 10, 1995
Joel Zwick
Fred Fox Jr.
Urkel finds himself competing with another in a long line of Laura's boyfriends, this time drag racer Curtis Williams. Eventually, the two get on each other's nerves so much that Urkel is left with no choice but to soup up his Isetta (apparently, repaired from last season's accident) and challenge the big-talking Curtis to a winner-take-all race. Soon Myra sets Laura straight when she reveals Steve's real reason he's competing in the race. Meanwhile, Eddie learns how to compromise between him living at home and inviting his friends over at home.
153
8
Talk's Cheap
November 17, 1995
Richard Correll
Fred Fox Jr. and Jim Geoghan
Urkel, his southern belle cousin Myrtle Urkel, and the nerd's alter-ego, Stefan Urquelle, each appear on a talk show to discuss relationships. Appearing with them are the objects of each one's affections: Myra, Eddie and Laura. Waldo also tags along, but this time, what he says actually makes sense. Also, Harriette believes Carl cares more about the news than her. Although it's soon revealed that he only likes watching the news in order to cope with his lack of romantic drive.
154
9
Struck by Lightning
November 24, 1995
Joel Zwick
Jim Geoghan
For some reason, Urkel becomes a human lightning rod and soon develops an intense fear of thunderstorms. Meanwhile, Laura and Myra both apply for sales clerk jobs at Ferguson's Dept. Store, but only one position is available. Both annoy each other as they audition for the job. Eventually, Mr. Waxman chooses Laura for the job and she believes her mother had something to do with his decision. Mr. Waxman explains that Harriette had nothing to do with his decision. He admits even though Myra had higher sales, she also got twice as many returned items because the customers perceive her as conceited and ignorant to their feelings with her lies. Waxman tells Laura that she cares about the customers' feelings and therefore she deserves the job. At the house, Carl and Harriette encourage Urkel to experiment on himself, which is later revealed that due to his constant uses of his transformation chamber that he has produced an unlimited quantity of iron.
155
10
Best Years of Our Lives
December 8, 1995
Joel Zwick
Sara V. Finney and Vida Spears
Urkel is put in charge of the senior class homecoming float and despite some bumbling by the nerd and his classmates, the float becomes a huge success. Even better, everyone starts to get to really know one another, and that's something everyone can be proud of even if Urkel ruins the float when transporting it to school. Estelle's constant activities fear Carl about her health until he learns why.
156
11
Fa La La La Laagghh!
December 15, 1995
Richard Correll
Meg DeLoatch
Just in time for Christmas, Carl gets in a sour mood and refuses to allow Urkel to decorate the house with his crazy light displays. Then, at his poker game, one of his friends says there is a big cash prize for the neighborhood lighting contest, and Carl's mood instantly changes, which Urkel has no idea about. Soon he learns the truth and sets Carl straight for lying to him. Meanwhile, Harriette wants a little more participation from Eddie and Laura in the family's holiday activities. Mother Winslow teaches them the true meaning of Christmas when she stops making her batch of gingerbread cookies.
157
12
Friendship Cycles
January 5, 1996
Joel Zwick
Shelia M. Anthony
Carl is once again pressed into service to teach Urkel how to do something simple this time, riding a bicycle. The usual hijinks ensue. Maxine ponders cosmetology school and although Laura is against it, she realizes her friend's happiness is more important.
158
13
South of the Border
January 12, 1996
Richard Correll
Joseph Cvar and Gary Menteer
Waldo learns about the laws of a tiny island nation the hard way. It lands him in jail and causes Eddie, Urkel, and Carl to have to make a long-distance trip to bail their buddy out, and Carl won't pay a $10,000 bail which he thinks is $10,000 American dollars, which is really $30 American dollars (which nobody learns until much later when Urkel asks the leader about it). Meanwhile, Harriette organizes a blind date for Laura, with a guy majoring in Geology. She refuses to go on the date and believes he will be a nerd (due to her own relationship with Urkel).
159
14
Life in the Fast Lane
January 26, 1996
Joel Zwick
Gregory Thomas Garcia
Laura, concerned about her figure, begins taking diet pills. One day, Urkel mistakes the pills for Vitamin C, which he had been borrowing from Laura, and goes into a stupor that nearly results in the Winslow garage being destroyed and the nerd almost seriously injuring himself. Soon, Harriette tells her to drop the diet pills because she thinks the cheerleaders are just jealous of how great she looks.
160
15
Random Acts of Science
February 2, 1996
Richard Correll
David W. Duclon and Gary Menteer
When Urkel's contraptions go haywire once too often, Carl demands that the nerd must put every single invention in storage. On the night that they go about putting everything away at the Chicago Police Warehouse, a street gang (known as Satan's Serpents) breaks in in an attempt to steal the stored weapons and holds both Carl and Steve hostage. Steve tells the gang that the transformation chamber works with the green liquid, "Bruce Juice", but he tricked them into thinking that it was anyone other than Bruce Lee. Both Carl and Steve enter the chamber and are transformed into figures similar to Bruce Lee. Meanwhile, Laura weighs in the possibility of getting a Nose ring, but later decides she's better off without one.
161
16
Tips for a Better Life
February 9, 1996
Joel Zwick
David W. Duclon and Gary Menteer
In order for Urkel, the clumsy nerd to pay off Carl for (thank to nerd's clumsiness) accidentally damaging his and Harriette's master bedroom floor with his latest invention and in order to prevent Carl from threatened to send the pesky nerd to lives with his southern relatives in Mississippi, Urkel decide takes a second job at Cafe Java without the Winslows' knowledge as his alter-ego Stefan Urquelle, giving strict Carl Winslow a few nights of not to be bothered by him. Meanwhile, Eddie battles the bottle as he begins coming home drunk from frat parties and he quickly soons learns that jeopardizes his family, friends and neighbors. After doing so one too many times, Carl exiled him out. His situation turns worse when Waldo refuses to let Eddie to move in with him, as he had previously insulted and hurt Waldo while intoxicated. Waldo tells Eddie off for this and breaks off their friendship until he agrees to stop drinking, saying that anyone who drinks and insults friends are no friends of his. This causes Eddie to finally get the message and vow to give up drinking, and he reconciles with Waldo and Carl allows him to stay home again.
162
17
Swine Lake
February 16, 1996
Joel Zwick
Stephen Langford
To improve his basketball skills, Eddie (with Greta's encouragement) takes ballet lessons. Steve and Waldo are enjoying a few yuks. The two are all set to perform as partners in a recital, but there's one problem: Greta's a no-show, but Myrtle is. Later on, Greta soon shows up with her hands cuffed to a sink, due to Myrtle's tampering. Meanwhile, after accidentally being called "grandmother" by Laura's latest boyfriend, Curtis, Harriette tries dressing herself in youthful clothes in order to feel young, but later decides to dress like herself when Carl tells her she still looks young in his eyes.
163
18
My Big Brother
February 23, 1996
Richard Correll
Fred Rubin
Steve becomes a Big Brother to a smart-talking, streetwise nine-year-old named 3J (Orlando Brown). However, 3J's bravado is the cover for an embarrassing secret: The boy cannot read. So Steve decides to teach him, but 3J refuses fearing he will break his promise like the other Big Brothers he had. Steve reassures him that isn't like the others and he always kept his promises. Meanwhile, Carl finds out that Harriette has a separate savings account, making him question his faith in his own wife and later regrets it.

Note: Orlando Brown makes his first appearance as Jerry Jamal Jameson (3J).

164
19
Eau de Love
March 8, 1996
Richard Correll
Fred Rubin
Steve accidentally pours his aphrodisiac potion(a.k.a. Woo Woo Juice) on himself, causing Laura to fall in love with him. However, Urkel knows he still has plenty of work to do to make the girl of his dreams truly fall in love with him once the potion wears off in a weeks time. Until that time, he must hide the smell and Laura's amorous affections from Myra. Meanwhile, Carl and Harriette are having trouble trying to get to their second honeymoon thanks to a bankrupt airline and a lot of snow.
165
20
Twinkle Toes Faldo
March 15, 1996
Joel Zwick
Felicia D. Henderson
In the second ballet-based episode of the season, this time it's klutzy Waldo who learns tap dance, which in turn will help him in 3-on-3 basketball with Eddie and Steve. Meanwhile, Laura's high ambitions of going to Harvard University are in jeopardy when Carl's unable to pay the tuition. However, Laura soon realizes the truth and offers to go to another college just to be closer to home.
166
21
Scammed
March 29, 1996
Richard Correll
Gary M. Goodrich
A smooth-talking scam artist cons Eddie and Waldo into patronizing an exclusive sports bar (the Ace High Lounge) where the Chicago Bulls hang out. After ignoring Steve's warning not to go inside because he suspected foul play, the con-man leaves them with an expensive bill and Eddie must get help from Carl, but not without instructing Waldo to lie to him to borrow money instead, hoping to avoid confessing to his father. Carl, however, is smart enough to know better and has the con-man and his employees arrested. Soon Carl berates Eddie for his behavior and he realizes he needs to apologize to Urkel for not believing him sooner. Meanwhile, Myra tries to help Laura with an all-natural zit-removal mask using cooking ingredients, but accidentally mistakes Urkel's super glue for milk. When Steve comes home and finds out, he and Myra must get the mask removed from Laura's face before her date arrives.
167
22
Dream Date
April 26, 1996
Joel Zwick
Fred Fox Jr. and Jim Geoghan
Their dates are unable to go to the senior prom (Curtis' grandmother had just died, and Myra fell ill at the last moment), leaving Urkel and Laura dateless. So they decide to go together and it proves to be Laura's dream come true—and a once-in-a-lifetime night for Steve as well. Meanwhile, the obnoxious Nick Neidermeyer (Ron Orbach) returns. This time, he's the Winslows' next-door neighbor.
168
23
A Ham is Born
May 10, 1996
Joel Zwick
Gregory Thomas Garcia
To bring in extra income into the Winslow household, Carl gets a job as a security guard at a movie studio. In the process, he lands a leading role in a movie, but then has a moral dilemma on his hands: With a passionate kissing scene in the script, should he risk developing real feelings for his gorgeous co-star (Garcelle Beauvais). Meanwhile, Urkel helps Richie with his science project.
169
24
Send in the Clone
May 17, 1996
Richard Correll
David W. Duclon and Gary Menteer
Urkel's cloning machine can make exact duplicates of anything; including himself, causing double trouble throughout the household (and putting Myra in a frenzy over her "Stevie-kins"). Then Laura has an idea: Put the Urkel clone into the transformation chamber and make the alter-ego Stefan a permanent human.

Note: This episode is Shawn Harrison's final appearance as Waldo Faldo