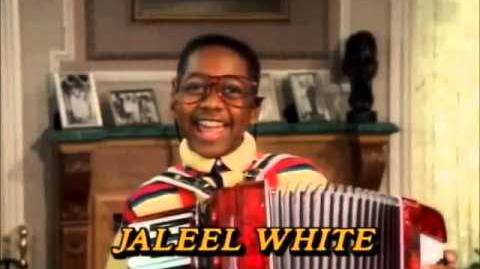 The third season of the family sitcom on Family Matters which originally aired on ABC from September 20, 1991 to May 8, 1992. The season consists of 25 episodes. The season was partially directed by William Bickley and Michael Warren, also produced by Bickley-Warren Productions, Miller-Boyett Productions, and Lorimar Television. It consists of 25 episodes, most of which were directed by Richard Correll, Gary Menteer, James O'Keefe and John Tracy. It was release from DVD (Region 1) on February 12, 2013.
Plot
[
]
Get your geek on with Steve Urkel the ultimate nerd and annoying neighbor of Carl and Harriette Winslow and their multigenerational Chicago clan. Urkel's irrepressible spirit not-so-smooth moves and undying love for Laura Winslow cause the family constant aggravation and occasional delight. And whether he's building a jet pack playing the lead in the "Romeo & Juliet" school play or joining Carl's poker night the Urkman's got what it takes to turn any situation into memorable family fun
Cast
[
]
Main
[
]
Recurring
[
]
Time Change
[
]
Beginning with this season, Full House moved from Fridays to Tuesdays for the rest of its run. In addition, Family Matters, which followed on Fridays, moved up to the 8/7C time slot on Fridays, to make room for the new Step by Step (from Miller-Boyett, the same producers as Full House, Family Matters, Perfect Strangers and the recently-axed Going Places). To make way for Full House's move, ABC's Tuesday mainstay "Who's the Boss?" was moved to Saturday nights until its cancellation at the end of the season.
Reception
[
]
Season three was met with positive reviews from both fans and critics, with many praising the performances and writing. While some of the storylines pertaining to the Urkel character divided critics, the additional screen time provided to the character was met with acclaim from fans.
Opening-credits sequence
[
]
Episodes
[
]
Season three consists of 25 episodes.
No. in
series
No. in
season
Title
Original air date
Director
Writer(s)
48
1
Boom!
September 20, 1991
Richard Correll
David W. Duclon
Urkel makes friends with an orangutan, who is doomed to a life of scientific experiments. Meanwhile, Carl and Lt. Murtaugh try to defuse a bomb hidden in a treadmill, booby-trapped by a revenge-seeker named Nitro Newton (a.k.a. "The Boston Bomber").
49
2
Brain Over Brawn
September 27, 1991
Richard Correll
Fred Fox Jr.
It's a battle of brains vs. brawn, as Urkel and a braggart classmate vie for the affections of Laura in a rope-climbing contest. Laura suggests that Urkel uses his brains to win the competition, leading him to invent a jet-pack to do so. Meanwhile, Carl and Eddie try to fix a leak in their roof, against Harriette's advice to call a professional. Though they succeed, Carl ends up falling off the roof and it isn't long until Harriette gives him her usual "I told you so".
50
3
The Show Must Go On
October 4, 1991
John Tracy
Gary M. Goodrich
With the original Romeo in the hospital with appendicitis, Urkel fills in to perform with Laura (who plays Juliet) in the school play. As one might guess, it ends up a disaster. Meanwhile, Carl gets a beeper from Lt. Murtaugh, but as it turns out, he ends up doing meager tasks for him. Carl soon has had enough of Murtaugh's meager tasks and destroys the beeper.
51
4
Words Hurt
October 11, 1991
John Tracy
David W. Duclon and Fred Fox Jr.
Harriette and Rachel hire a hypnotist to determine why a sleepwalking Urkel has been acting out his hostilities on Carl. They learn that, during one of his visits, Urkel caused an accident that ruined a model ship Carl had worked three months on. Carl angrily told Urkel to get lost, then (not knowing Urkel could overhear him) told Laura he wished he'd go away permanently. Carl tries defending his actions, but Harriette and Rachel — in an effort to tell him that words hurt — decide to give him the silent treatment until he apologizes.
52
5
Daddy's Little Girl
October 18, 1991
Richard Correll
Sara V. Finney and Vida Spears
When Carl's new rookie partner, Mike Forbes, pays a visit to their home, Laura immediately develops a massive crush. When Mike gets invited to a diner, she does a "slightly" better job dressing herself, and comes before Mike dressed very sexy and with behavior she thought of as womanly; while it unbeknownst to her, made her look silly. When Carl accidentally hurts her feeling by laughing at her fancy appearance, her feeling are deeply hurt and she feels ashamed in front of the young officer. Soon after, Harriette calls him out for embarrassing Laura and tells him to apologize. Carl and Laura finally make up when he explains he never meant anything bad, but as she is his beloved daughter, he can't think of her as anything else but "his little girl" and tells her that Mike is married. Meanwhile, Steve lands close to high tide in his family trip to Hawaii, and has a "pleasant" time escaping from a certain Hawaiian woman.
53
6
Citizens' Court
October 25, 1991
John Tracy
Regina Stewart Larsen
Carl accidentally kills Urkel's prized Peruvian beetle, worth over $500 and Urkel grieves over the loss of his buggy friend. Carl reasons that "it was just a stupid bug" and refuses to apologize or at least compensate for what he had done; Urkel is resolved to see if a small claims court judge agrees, taking his case to Citizen's Court (a parody of The People's Court). There, the two bring out several "proofs" and "testimonies," some of which even fake, but before the judge can decide, Urkel's speech finally makes Carl realize that it doesn't matter if it was "just a stupid bug," because it was of much greater importance to Steve. The two walk out from the court, not interested and never finding out the judge's decision.
54
7
Robo-Nerd
November 1, 1991
Richard Correll
Gary Menteer
Urkel creates Urkelbot (Michael Chambers), which soon develops a mind of its own and sets a trap to snare Laura for itself, but Urkel manages to shut it down just in time. Carl tries to slow down Estelle and Fletcher's relationship to no avail. When Harriette and Rachel calls Carl out for hurting his mother, he won't tell them why he doesn't approve of her relationship with Fletcher
55
8
Making the Team
November 8, 1991
Richard Correll
David W. Duclon and Gary Menteer
Urkel is doing his best to get onto the basketball team as he claims he improved, but neither Eddie or the basketball coach believe it, and the coach in the end makes him the equipment manager. Meanwhile, Laura, who just got into the cheerleading team, wants to show some new cheers to a very bossy know-it-all team captain named Cassie Lynn Nubbles, but she snobbishly refuses, saying that Laura as the only freshman in the team, has no right to do anything but to follow the others lead. For the first time, Laura feels ashamed and feels like an outcast, and decides to ask for advice from Steve, who has to live through that every day. Steve explains that while he does sulk about it, he is constantly reminding himself that giving up is not an option, and the one should always stand up for themselves. In Steve's case, he decides he will make the most of being the equipment manager this year, and hopefully make the team next year. During the game, many of the players get hurt, and the coach, with his job being on the line, and left with no other options, decides to put Steve into the game, which brings amazing results – as they start making a comeback. Laura decides to take matters into her own hands when Cassie Lynn is not even trying to lead her team because she thinks basketball is too boring, and does the cheer that she made up herself – eventually both the crowd, and the team are into the new cheer. In the end, Steve's team wins, and everything ends well for both of them. Whereas, Cassie Lynn is presumably kicked out of the cheering squad for her lack of effort.
56
9
Born to Be Mild
November 15, 1991
John Tracy
Jim Geoghan
A street gang, known as "The Dragons," come into Rachel's Place and try to stir up trouble, but luckily, Carl comes by just in time to stop it. Later in the evening, the Winslows receive a police call that The Dragons trashed Rachel's Place and when the family arrives to assess any damages, they learn that Eddie was brutally beaten up as he was getting back from a date. Carl is furious and wants revenge for what they did to Eddie. However, Steve stops him by warning him that he shouldn't do anything stupid by committing police brutality or he risks losing his badge. Therefore, Steve voluntarily offers to go into the lair of "The Dragons" under a disguise of a prospect thug wanting to join them, wired. He keeps them busy long enough to make them confess their crimes-- thanks to a loudmouth member-- and the leader is suspicious. Carl and his partner barge in at the last moment to arrest them and save Steve.
57
10
The Love God
November 22, 1991
John Tracy
Stephen Langford
Eddie wants to date an "easy" girl, named Vonda (Danielle Nicolet) but can't unless Urkel helps tutor her. Though he succeeds, Urkel is concerned for her well being that she may be selling herself short, decides to counsel her on her ways before their first date. He teaches her that she doesn't have to be "easy" to be popular, because her nice and friendly personality will make her popular by default, much to Eddie's chagrin. Rachel meets a lovely man, who is a complete stranger to her. Meanwhile, Lt. Murtaugh is enjoying a few laughs when Carl must go out in drag as part of an undercover operation. It turns out well, though as Carl manages to catch a wanted man, Murtaugh is ordered to go out in drag for another undercover operation and Carl enjoys a few laughs as well.
58
11
Old and Alone
November 29, 1991
Richard Correll
Stephen Langford
Laura tells Urkel he's banished from her life after he warns her about her new boyfriend's ulterior motives. In turn, Harriette tells Laura that her attitude may result in her growing "old and alone". Sure enough, she has a dream where she becomes an elderly spinster, who has grown "old and alone".
59
12
A Pair of Ladies
December 6, 1991
John Tracy
Fred Fox Jr.
Rachel, in need of some help at an understaffed Rachel's Place, enlists Harriette's help. However, the two soon get into a huge argument after well-meaning Harriette is all too eager to offer suggestions. Meanwhile, Urkel joins in Carl's poker night and gets cleaned out by the hustling Lt. Murtaugh. Soon, Steve gets his revenge on him when he beats Murtaugh with a four of a kind.
60
13
Choir Trouble
December 20, 1991
James O'Keefe
Mary M. Schwarze
Choir director Rachel kicks recently converted Urkel out of the choir when the nerd can't sing a lick. Soon everyone else leaves the choir after being fed up with her micromanagement. Estelle sets Rachel straight by advising her that God isn't interested in the quality of the voice, but that the words come from the heart.
61
14
A Test of Friendship
January 10, 1992
Richard Correll
Regina Stewart Larsen
Urkel faces expulsion from school when he colludes with Eddie (who didn't study) to cheat on a chemistry test against Waldo's admonition in the latter. Although feeling bad about it, Eddie refuses to confess until Laura gives him an ultimatum: do the right thing and confess to save Steve from expulsion or she'll tell on Eddie to everyone about him cheating on the test and let him deal with the consequences. Meanwhile, Carl becomes the laughing stock of the precinct (thanks largely to Lt. Murtaugh) when revenge-seeking burglars use sleeping gas to put Carl to sleep, then rob the Winslows blind. However, their second attempt to rob the Winslows again is foiled when Estelle, Harriette and Rachel comes home in time to nab the burglars by clonking them in the head with a snow shovel and chases them inside the house. End result: the Winslows get their furniture back, Eddie is grounded, he and Steve must retake the test before their suspension is lifted and burglars are back in jail. Carl is later chased by Harriette and Rachel for his lack of appreciation for them in saving his job.
62
15
Jailhouse Blues
January 24, 1992
Gary Menteer
Sara V. Finney and Vida Spears
Harriette's troublesome Detroit cousin, Clarence (Shaun Baker), is sent to the Winslows to live. He quickly proves to be a bad influence on Eddie, and gets him and an unwilling Urkel (along with a car-ful of pretty girls (Vivica A. Fox and Mari Morrow) in serious trouble for grand theft auto. After realizing how remorseless Clarence is in not accepting responsibility for himself, a fed up Harriette sends him back to Detroit the very next day to deal with his family's wrath. Meanwhile, Eddie feigns remorse for his actions, hoping to walk out of punishment, and while the owner agrees to drop the charge against him, Carl, not so easily fooled by his son, still punishes him to do community service by volunteering at elderly shelters. Carl later comforts Harriette about Clarence and how Eddie will make mistakes.
63
16
Brown Bombshell
January 31, 1992
John Tracy
Sara V. Finney and Vida Spears
Estelle is determined to share the stories of her late fighter-pilot husband and World War II's Tuskegee Airmen to an uninterested Winslow clan: especially Eddie and the children. Harriette lambasts Eddie for his behavior and reminds him that he needs to set a better example than the one he showed. Eventually, she is invited to share her stories to Eddie's American history class to which they are very interested and even he admits he's proud of his grandfather. Meanwhile, Urkel's prison pen pal is released, yet she believes Carl is Steve. So it's up to both of them to get his pen pal out of the house before Harriette finds out.
64
17
Food, Lies and Videotape
February 7, 1992
John Tracy
Stephen Langford
Urkel enrolls in a home economics course (just because Laura is in the same class). He soon learns that he's simply not cut out to be a cook, but is fine with it. Waldo discovers he might just have a hidden culinary talent and hones in on it. Laura learns how to take time to prepare her meals properly and not rush through them. Whereas, Cassie Lynn refuses to accept that she can't rely on her good looks all the time and need to do something with herself. Meanwhile, Richie accidentally breaks Carl's video camera and confesses to the whole thing. Though he is pleased that Richie has confessed, Carl must also deal with Eddie's studying skills(or lack thereof) after he watches a recording of him kissing his girlfriend, Vonda.
65
18
My Brokenhearted Valentine
February 14, 1992
Richard Correll
Gary Menteer
Laura becomes further annoyed and angry with Urkel, accusing him of once again butting into her romance with Daniel Wallace (Bumper Robinson). Later, she becomes upset with Maxine when she relates her negative experience with Daniel, thinking it to be little more than jealousy. It turns out that the advice from Urkel and Maxine is best heeded, especially when Daniel tries to attack Laura in her room in order to have sex with her on Valentine's Day. When she tells Harreitte about it, Laura is reprimanded for not listening to her friends and is told to apologize to them at once.
66
19
Woman of the People
February 21, 1992
Richard Correll
David W. Duclon and Gary Menteer
Laura is engaged in a heated campaign for class president with snobbish Cassie Lynn. However, things grow ugly when Cassie takes some incriminating photos of Laura seeming to embrace Urkel(actually caught her and was using his weight as a brace) in order to win by cheating. Fortunately, Steve decides to fight fire with fire by having Eddie take photos of him and Cassie Lynn kissing in order to make her realize that blackmailing Laura is wrong. He is able to convince her that they can do the election fairly by letting the other students vote and decide for themselves. Meanwhile, Carl refuses to participate in a neighborhood watch squad and is later reprimanded for his selfishness.
67
20
Love and Kisses
February 28, 1992
John Tracy
Jim Geoghan
When Laura and Maxine are unable to get tickets to his concert, Urkel invites R&B singer Johnny Gill to serenade Laura, in hopes that she will decide to go out with him. However at the last second, he decides it's better to let her make her own decision whether she wants to go out with him or not. Meanwhile, Carl and Harriette take a second honeymoon to a resort, but are quickly left out in the cold.
68
21
Stop! In the Name of Love
March 13, 1992
John Tracy
David W. Duclon and Gary Menteer
This time, it's Waldo who has the crush on Laura, particularly when she tries to encourage him after a string of bad luck with dates. Carl and Murtaugh argue of Mother Winslow's driving when Estelle destroys Lt. Murtaugh's new car. Their fighiting esclates with a pie fight, with Urkel taking the hit. Soon the nerd is fed up and decides to throw a pie at both Carl and Murtaugh. However, an unsuspecting Laura ends up being the recipient of the pie, causing her to chase Urkel around.
69
22
The Urkel Who Came to Dinner
April 3, 1992
John Tracy
Regina Stewart Larsen
When his parents go out of town unannounced, Urkel is invited to stay with the Winslows. But he unwittingly manages to create havoc: he accidentally vacuums and swallows a fish Carl was looking after for Lt. Murtaugh; he encourages Richie to fight a preschool bully; and he drives away Laura's study date (Mark) when he suspects he's got less than admirable motives. When the family confronts him about it, Estelle and Richie ends up mediating the fight. Richie reveals that Steve didn't intend for him to fight the bully, but rather stand up to him. Rachel soon realizes she was wrong and apologizes to Urkel for her quick judgment. Estelle mentions to Laura that she should've been grateful to Steve in chasing Mark away, especially when she reveals that she and Fletcher had caught him at Lovers Lane with a certain red haired classmate he had been seeing behind her back and whom Laura recognizes from her class.
70
23
Robo-Nerd II
April 24, 1992
Richard Correll
Fred Fox Jr. and Jim Geoghan
Despite Laura's admonition that the show is sexist, Urkel, Eddie and Waldo are contestants on the local teen dating show "Dudes." Urkel uses the show to reaffirm his love for Laura, leading her to reprimand him for his behavior. Meanwhile, Carl tries to find out what his family is planning for his birthday.
71
24
Dudes
May 1, 1992
Richard Correll
Gary Menteer
Urkel revamps his Urkelbot into a crime-fighting bot, encouraging Carl to use the technology to solve a rash of convenience store burglaries. Meanwhile, the Winslow women get a nasty surprise when the new shampoo that they ordered causes them to go bald. After buying wigs, the women ask Steve if they can use Urkelbot to trace the shampoo back to the con-artists and get them arrested for their fraud. They soon discover that Urkelbot has no interest in police work and wants to be a dancer instead.
72
25
Farewell, My Laura
May 8, 1992
Richard Correll
David W. Duclon and Gary Menteer
A 1940s-style detective spoof, with Urkel playing gumshoe crime fighter Johnny Danger. Danger is paid to protect supper club owner Rachel, who is targeted by an assassin. When Rachel is killed, the "Wigglesworths", Murtaugh, and Waldo are all suspects. Who murdered Rachel, and can he find out fast?