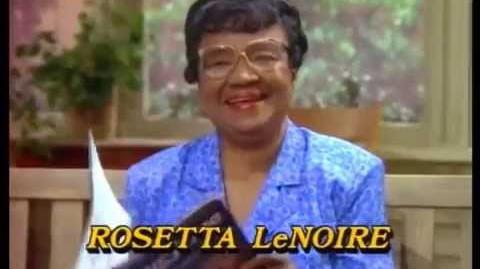 The second season of the family sitcom as Family Matters which originally aired on ABC. The first ("Rachel's Place") episode premiered on Friday September 21, 1990 and concluded on Friday May 3, 1991 with this episode "I Should Have Done Something". The season consists of 25 episodes. It was release from DVD (Region 1) on February 14, 2012.
Plot
[
]
In season two, after Leroy is fired from his job at Leroy's Place, because Steve turns on the stove and burned, then Steve is promoted to open up her new diner as the place titled Rachel's Place, earning her a new employee members are Steve and Laura.
Cast
[
]
Main
[
]
Recurring
[
]
Trivia
[
]
Jaleel White is upgraded from recurring cast to series regular.
Bryton McClure joins the series regular.
Cherie Johnson joins the longest-running series as a recurring member, also Shawn Harrison recurs.
Joseph and Julius Wright is no longer in the series.
Opening credits sequence
[
]
Schedule Changes
[
]
Capitalizing on the success of the TGIF block after its first season, ABC decided to make it all Miller-Boyett shows: Full House, Family Matters and Perfect Strangers would all retain their time slots, but in the 9:30/8:30C slot was the new Going Places, which was axed after one season. The block's new catchy theme song was altered to remove Fridays the Mouse and in addition to the cast previewing their show as well as the others, on occasion, was a "TGIF Trivia" segment regarding each show and a three-choice question regarding the events on that show (in reality, all three choices are correct, as all scenes are featured in that show's episode).
Reception
[
]
Season two was the shows best critically reviewed season and was beloved by fans as well. Critics felt that the second season perfectly balanced the uses of the Urkel character and Winslow family. Acclaim also went to the performances of the younger cast (particularly Jaleel White) as many critics felt they carried the majority the show.
Episodes
[
]
Season two consists of 25 episodes that aired.
No. in
series
No. in
season
Title
Original air date
Director
Writer(s)
23
1
Rachel's Place
September 21, 1990
Richard Correll
David W. Duclon and Gary Menteer
After Steve accidentally burns down Leroy's, the local teen hangout, Rachel, with Steve's help, wants to open up her own diner and call it Rachel's Place. She asks Carl and Harriette to help obtain the funds, but because Carl invested $5,000 on a stock (which has since gone down), they realize they don't have enough money. However, Estelle comes up with the funds needed, and Rachel's Place has its grand opening a while later.
24
2
Torn Between Two Lovers
September 21, 1990
Gary Menteer
Janet Lynne Jackson
Steve's thrilled when he thinks Rachel—who's actually dating a loan officer also named Steve—has a crush on him. That is until he realizes that he must remain true to his love for Laura.
25
3
Marriage 101
September 28, 1990
Richard Correll
Sally Lapiduss and Pamela Eells
Steve is paired with Laura in a class assignment about marriage. Urkel goes the extra mile to be a good husband, but an exasperated Laura sends him home at once. When she goes to Harriette for advice in getting him to leave her alone, her mother reprimands her ungrateful behavior towards Steve. Laura learns that Harriette is actually envious of the attention Urkel had been showing her. This is because Carl had been taking her for granted and was paying less romantic attention to her as of late. This deeply concerns her and angers both Rachel and Estelle. While Laura is enlightened, Carl gets the hint and promises to do better.

Note: Cherie Johnson makes her first appearance as Laura's best friend Maxine Johnson.

26
4
Flashpants
October 5, 1990
Gerren Keith
Stephen Langford
Carl and Harriette enter the precinct's annual dance contest, but find themselves challenged by Sgt. Charlie Carnellie, an egotistical fellow officer. He hurts his back while practicing, and heals just in time for the contest. He and Charlie tie for the win, however, right before the dance-off, he hurts his back again while bowing. At the same time, Charlie trips over a chair and hurts his ankle leaving both in pain. Just as Charlie and his wife are about to forfeit, Carl mentions that he wants to settle for a tie (which is proven to be against the rules), and Harriette tells Carl she's proud of him for being a good sport.
27
5
The Crash Course
October 12, 1990
Gary Menteer
Manny Basanese
An unlicensed Eddie loses control of the family car (due to Carl shaking him up in a practice test the day before) and crashes it into the front of the house. Wanting his friend to stay out of trouble, Steve takes the fall. Eddie refuses to confess — that is, until Steve announces his family has enrolled him in military school.
28
6
Boxcar Blues
October 19, 1990
Mark Linn-Baker
Fred Fox Jr.
Carl has assigned Urkel as part of a police ride-along program. While staking out a wanted suspect in a railroad stockyard, Carl and Steve accidentally wind up locked in a livestock rail car. Eddie — who earlier rejected Carl's offer to participate in the ride-along program — tries to get a modeling career, but is soundly rejected and begins to reconsider his dreams.
29
7
Dog Day Halloween
October 26, 1990
Gerren Keith
David W. Duclon and Fred Fox Jr.
Steve learns a painful lesson when he tries to make good on his fantasy of saving Laura, while both of them are held hostage during a bank robbery on Halloween. When Carl saves the day, Urkel admits his disappointment in not stopping the robber and Carl consoles him that he did one thing right: he kept Laura safe by being with her.
30
8
Cousin Urkel
November 2, 1990
Gary Menteer
Sally Lapiduss and Pamela Eells
After Steve annoys the entire neighborhood with his late-night playing of "Feelings" to serenade Laura (at Eddie's encouragement), he is sent to live with relatives in Mississippi. The Winslows (Carl, Eddie and Laura) think they're in for a few weeks of not to be irritate by him, when in pops Myrtle Urkel (Jaleel White), the splitting image of her cousin. Myrtle immediately sets her sights on Eddie, and Laura does everything she can to encourage her to get revenge. That is until Carl and Harriette upon learning about their pranks, grounds both Eddie and Laura and forces them to apologize to both Steve and Myrtle.
31
9
Dedicated to the One I Love
November 9, 1990
Gary Menteer
Sara V. Finney and Vida Spears
Harriette catches Carl in the middle of an intimate moment with their sexy new neighbor, Loretta, and worries that he may be drifting away from their marriage. When Harriette voices her concerns over Loretta possibly stealing him from her, Estelle consoles her and maintains that Carl needs to see their neighbor for who she is. Laura, meanwhile, urges Steve to make over a shy classmate and regrets it. Urkel then tells Laura that he introduced the classmate to the president of the chess club with the belief that Laura is interested in him. Later on, Carl discovers that Harriette's warning about Loretta is true and tells her to leave. Afterwards, he apologizes to Harriette for not believing her sooner.
32
10
The Science Project
November 16, 1990
Gary Menteer
Sally Lapiduss and Pamela Eells
Laura has a dream that Steve has created an atomic bomb for a science project, and when it is about to detonate, nobody will listen to her. As her dreams ends, Laura realizes that she must apologize to Steve and be honest in why she wanted to be his partner.
33
11
Requiem for an Urkel
November 23, 1990
Joel Zwick
David W. Duclon
Laura is being antagonized and bullied by Willie Fuffner (Larenz Tate) for refusing to go to the dance with him. He chases all of her prospect male dates to the sidelines until she's forced to go to the dance with Urkel. Steve stands up for Laura and gets into a fight with Willie at school. Instead of taking the sensible route and get them to apologize, the coach decides they should to get it on in the ring. This leads Carl and Eddie to teach the uncoordinated Urkel everything he needs to know about defending himself in the ring. Meanwhile, Estelle finds a new man in Fletcher Thomas (Arnold Johnson), much to Carl's dismay.

Note: Shawn Harrison makes his appearance as Waldo Geraldo Faldo

34
12
Fast Eddie Winslow
November 30, 1990
Gerren Keith
Fred Fox Jr.
Eddie loses a bet with a pool hustler, named Boyd "Buck" Higgins (Tim Ryan), and unable to pay his debt off, soon finds himself, Rodney (Randy Josselyn) and Steve being threatened with serious harm. Steve loans Eddie and Rodney the money they need, but challenges Buck to a double or nothing match ($500). Buck then intentionally breaks Steve's glasses, but just as Steve is about to forfeit, Carl and Estelle show up. Carl threatens to arrest Buck unless he (and Estelle, who takes one shot) steps in for Steve. He and Estelle win and Eddie thanks Carl for showing up. Carl then reprimands him for gambling and Steve shows up to make Eddie uphold his promise. Meanwhile, Judy is on her way to getting a D in English and must write a book report about "Swiss Family Robinson" after she doesn't read the book.
35
13
Have Yourself a Merry Winslow Christmas
December 20, 1990
Richard Correll
David W. Duclon
Steve is all alone for Christmas, his family having left him behind and the Winslows shunning him after he breaks Laura's old-fashioned Christmas ornament. The nerd has also promised Richie that Santa will deliver him the season's hottest toy, Freddie Teddy, a story-telling teddy bear that Carl seems to have a little trouble securing. Eventually, Laura apologizes to Steve after she finds him feeling sad and alone in his basement, on Christmas Eve. She also invites him to spend Christmas with her and her family, and Steve accepts. Soon the Winslows learn there's nothing wrong with Steve still believing in Santa, especially when they discover his letter (with which he asked Santa to let him spend Christmas with the Winslows) and Richie is happy with his present.
36
14
Ice Station Winslow
January 4, 1991
Richard Correll
Gary Menteer
Eddie and Judy both have a lesson in acting their ages and having appreciation for family. In Eddie's case, Steve tags along on his and Carl's ice fishing trip to Lake Wannamuck, and proves to lend a crucial helping hand when Carl falls through thin ice. The harrowing experience teaches Eddie a valuable lesson in what the consequences would've been if Urkel hadn't been around to rescue Carl and promises to spend more time with him. Meanwhile with Richie being the baby of the household, Judy feels like she's getting less attention and ruins his penguin costume in front of Rachel. Laura reprimands Judy for her behavior and soon teaches her that there are some advantages to being the older kid.
37
15
Son
January 11, 1991
Gary Menteer
Jose Rivera
Rachel asks Carl to build a playhouse for Richie, but Carl cannot find his screwdriver. Eddie tells Carl he used it to fix his bike, and ignores Carl and by talking to Jolene on the phone. Carl turns the phone off and they argue. Eddie talks back and Carl grounds him by sending him to his room. Defying Carl and ignores Laura's warning to stay put, he sneaks out and goes on his date with Jolene. Eddie comes back then and tries to hide the evidence upstairs in his room. However, Carl ironically appears while he is going upstairs. Carl sees the evidence and grounds him for one month, then two more months for his attitude. Carl and Eddie get into a heated argument over house rules, prompting the eldest Winslow son to threaten to move out (even though he doesn't really have a plan). Hariette makes the two sit at a table and she tells the story of when Eddie was born. After Carl talks to Eddie, Eddie decides to stay home saying, "Dad, I'd like to stay", and Carl saying, "I would like that too, son".
38
16
Do the Right Thing
January 18, 1991
Gary Menteer
Sally Lapiduss and Pamela Eells
A lesson in conscience, Carl wants to keep a valuable ($15,450) diamond bracelet he found so that he and Harriette can go on a Caribbean cruise. Carl eventually finds the owner of the bracelet, who ironically could not come as soon as she wanted to because she was on a Caribbean cruise. At the same time, Steve wrangles with helping Laura's current boyfriend, Todd, maintain his academic eligibility for playing basketball. When Todd asks Steve to tutor him, he is tempted to give Todd the wrong answers, but eventually helps him get a B in Geometry. He finds out later that Laura broke up with Todd anyway because all he ever talks about is basketball.
39
17
High Hopes
February 1, 1991
Gary Menteer
Fred Fox Jr. and Dennis Snee
Steve helps Carl cure his fear of heights by going on a hot-air balloon ride. Things go wrong when a nearby plane causes Steve to fall out, but Carl manages to save Steve's life. Meanwhile, Rachel helps Harriette win a radio contest, but they start to argue on who should get the car that they recently won. After fighting for a while, Estelle suggests they sell the car, and split the money evenly.
40
18
Life of the Party
February 8, 1991
Gary Menteer
Janet Lynne Jackson
Steve teaches everyone how to "Do the Urkel" at Maxine's rooftop party, but the party may be his last when Willie Fuffner spikes the punch with whiskey as revenge for humiliating him. An intoxicated Urkel soon tumbles from the rooftop, and is clinging to dear life. Rachel ends up risking her life to try to save Steve's, while Fuffner and his pal, Waldo, end up in juvenile hall. Meanwhile, the Winslows are trying to decide what their one-week vacation will be, and Harriete decides to take Carl's idea to go to Lake Geneva, Wisconsin.
41
19
Busted
February 15, 1991
Richard Correll
David W. Duclon and Fred Fox Jr.
Both father and son each have a lesson in confessing their mistakes. Eddie wrecks the family car, again after failing to impress Jolene with his unlicensed driving and ignores Laura's admonition to tell Carl the truth. To obtain the funds and repair the damage without Carl noticing, he and Urkel visit a local bakery that is the front for an illegal gambling operation. Steve wins $32,000, but as they are about to leave, the police show up. Meanwhile, Carl accidentally scatters Harriette and Rachel's great aunt's ashes into a trash can with chimney ashes, thinking the urn is a candy tin. He must also deal with both Harriette's anger when she learns the truth, along with disciplining Eddie for wrecking his beloved car with his unlicensed driving and gambling.
42
20
Fight the Good Fight
March 1, 1991
Gary Menteer
Sara V. Finney and Vida Spears
Laura and Steve push for Black History classes in their school, but things quickly turn ugly thanks to their racist classmates. However, Mother Winslow encourages Laura to continue fighting for what she believes in after revealing her own encounter with racism when she was young. Meanwhile, Carl attempts to fix a defective vacuum cleaner, despite Harriette warning him to be sensible and buy a replacement.
43
21
Taking Credit
March 15, 1991
Richard Correll
David W. Duclon
Wanting to teach a lesson, Rachel tells Judy and Richie stories about how Eddie and Lt. Murtaugh each wanted to take credit for things someone else did. In Eddie's case, he claimed he wrote a story Urkel actually did. When he refused to keep a promise to Urkel as he had promised Rodney to go camping with him, he calls Eddie out for his selfish deeds. This prompts him to apologize for it, confess to his wrongdoing and keep his promise to Steve. In Carl's case, he helped foil a crime spree with little help from Lt. Murtaugh. However, he shares credit with Lt. Murtaugh when Carl admits that he is actually camera shy during a news interview and this earned him, Murtaugh's respect.
44
22
Finding the Words
March 22, 1991
Richard Correll
Fred Fox Jr.
Jimmy Holmes (Paul Winfield), claiming to be a long-lost family friend of the Winslows turns out to be much closer when Jimmy tells Carl that his name is Jimmy Baines, Harriette and Rachel's father, who walked out on them years earlier. When he came back to reconcile with his family, their mother denounced Jimmy by telling him that she had told their daughters that he died in Korea. Since then, Jimmy changed his last name to Holmes in order to see his grandchildren in secret. When the truth comes out, Harriette is unsure if she could forgive Jimmy and admits her resentment for his actions in leaving their family. Rachel counsels her that if they don't take the opportunity and reconcile with their father, then they'd make the same mistake as their mother did.
45
23
Skip to My Lieu
April 1, 1991
Richard Correll
Charlene Seeger
Carl's chances at a promotion hinge on his ability to get Lt. Murtaugh a date with Rachel. Meanwhile, Steve hopes to vie for Laura's affections with an ID bracelet. But when Rachel and Laura rejects the two, Steve and Lt. Murtaugh spends the rest of their evening at Rachel's place bonding while drinking root beer floats.
46
24
The Good the Bad the Urkel
April 26, 1991
Richard Correll
Sally Lapiduss and Pamela Eells
After getting into a brawl with Steve's father over the Urkels' smelly backyard compost heap, Carl dreams of a feud between their two families in the Old West. There, he is the local sheriff who has shot and killed Doc Urkel. Before long, his outlaw son comes to town looking for revenge. Challenged to a quickdraw, Carl is engaged in a shootout with Two-Gun Urkel, the most annoying gunslinger in the West. He ends up shooting and killing Two-Gun right as he wakes up, and realizes he should apologize to Steve and his father.
47
25
I Should Have Done Something
May 3, 1991
Richard Correll
David W. Duclon
Carl is haunted by the memory of a hostage situation gone wrong. Even though Carl earned a commendation for his work in capturing a convenience store robber, he was unable to prevent the suspect from killing his elderly hostage. However, the victim's widow (Beah Richards) assures Carl that he wasn't at fault and it was just the robber who was at fault. Meanwhile, Urkel receives Johnny Gill tickets, a singer that Laura adores. So, he uses the tickets as a chance to get a date with Laura, until the last second. Laura thinks Steve is trying to flake out on their date and tells him they're going to the concert regardless.