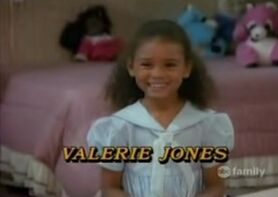 Valerie Jones (born in 1982 in Tustin, California) was an actress who portrayed the role of Judy Winslow in the pilot episode of "Family Matters."
Valerie's other television credits included two appearances on "The Fresh Prince of Bel Air" in 1990 & 1992. During 1992, she appeared in commercials for Pepsi soda & Trident gum.
It is also believed that the reason this actress spent so little time on the beloved show was because of her acting performance, and some others say that she was written off like her replacement, Jamie Foxxworth, because of Family Matters' extremely tight budget.
Gallery
[
]